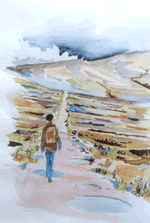 GERHARDT GALLAGHER is an Irish painter living and working in Dublin. He was born in the Viking city of Waterford and was influenced in his painting development by its visual and historical aspects. While largely self-taught he studied art there at the Technical College and later at NCAD, Blackchurch and Airfield Print Studios. He is a professional member of the Visual Artists Ireland.
HIS WORK focuses on stylized figurative and landscape compositions. He uses a variety of media; currently, oil, watercolour and etching. Drawing and sketching form a key aspect of the working process and provide the reference material for new compositions.
EXHIBITIONS include sixteen one-man shows, four two-person and numerous gallery, group and open exhibitions. Venues in Ireland include the RHA Gallery, Bank of Ireland, Goethe Institute, Irish Life and the Glucksman Library, University of Limerick,OPW Heritage Centre as well as Arts Centres in Waterford, Dundalk and Castlebar. He has also exhibited abroad, in the US, France, Canada and China. He has been a regular exhibitor at the Kennedy Gallery and the Ranelagh Arts Centre.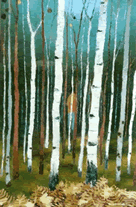 COLLECTIONS include Comhairle Ealann (The Arts Council), Waterford Municipal, Ceoltas Ceoilteoiri, the Airfield Trust and the Office of Public Works. He is also represented in corporate and private collections in Ireland, France, Germany, Finland, Sweden, China, the UK and the US.
He is co-author with Gisela Holfter and Micheal O'Haodha of the book 'Connections - Verbindungen' German Irish Perpectives through Etching (Cambridge Scholars 2011)
Gerhardt is a professional member of Visual Artists Ireland and a fulltime member of Blackchurch Print Studios.
REVIEWS have featured in the national and regional press and his work is also referenced in Irish and UK publications.
WORK can be viewed at Gerhardt's Studio at 53 Upper Beechwood Avenue, Ranelagh, Dublin 6 and a sample of different media is shown under 'Works' on this website: Commissions accepted.